Download free "
Highland second-sight, with prophecies of Coinneach Odhar and the Seer of Petty, and numerous other examples from the writings of Aubrey, Martin, Theophilus Insulanus, the Rev. John Fraser, dean of Argyle and the Isles, Rev. Dr. Kennedy of Dingwall, and others.,

" by

Macrae, Norman

EPUB, MOBI, PDF, TXT, Kindle
---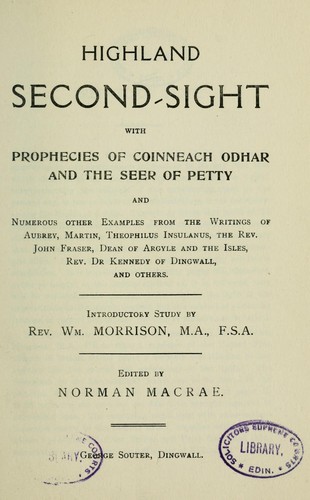 Free Find Ebook
The book was published in

1909
Language:
English
Book description:
Publisher:
G. Souter
.
Date:
1909.
Place:
Dingwall
Number of pages:
202
Language:
English
---
This book describes the following items:
Mackenzie, Kenneth, 17th Cent, Morison, John, D. 1774, Precognition, Prophecies,